How Do You Make Your Child's Lunch Special on Valentine's Day?
Every parent knows that children grow up all too fast. That's why taking the time to remember even the small holidays is so important in the life of a child. Every moment counts! If you are looking for some creative ways to honor the little moments this Valentine's Day, look no further. In this article, we will give you some ideas for how to spruce up your child's lunch box in a memorable and festive way. So, how can you make your child's lunch special on valentine's day? Some ways how to make your child's lunch special on Valentine's Day include:
1. Make a heart-shaped sandwich
2. Include healthy snacks in each of the compartments
3. Add Some Valentine's Day Themed Coloring Pages or Cards
4. Add Special Valentine's Day Themed Treats
5. Write a Valentine's Day Message In the Lunchbox
6. Add Festive Valentine's Day Themed Decorations to the Lunchbox
So, now that you have an idea of how to make your child's lunch special on Valentine's Day, let's talk in greater detail of how you can implement these into your child's lunchbox! However, before that, let's take a brief look at the importance of holidays and an explanation of Valentine's Day itself. So, keep reading to find all of this out, what you can do after your children get out of school, and more!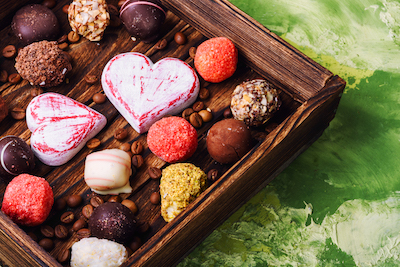 Celebrating the Holidays
Celebrating holidays as a family is an important part of building strong bonds and growing closer together. Holidays provide the perfect opportunity to come together, share stories, create new memories, and build relationships that will last a lifetime. Celebrating holidays with your family can offer many benefits such as:
– Spending quality time with loved ones – Holidays are a great way to spend quality time with your family members, catch up on each other's lives and simply enjoy one another's company.
– Enhancing family traditions – Celebrating holiday traditions can be fun for everyone involved and help keep the legacy of your family alive. Having special activities or rituals that have been passed down from previous generations can bring the family closer together.
– Learning valuable life lessons – Holidays provide an opportunity to teach children values such as respect and appreciation for others, while also teaching the importance of spending time with family.
– Creating memories – Celebrating holidays with your family is a great way to make memories that will last forever. Whether it's sharing stories around the dinner table or enjoying each other's presence in front of a crackling fire, these are moments you won't want to forget.
Overall, celebrating holidays as a family allows you to form strong bonds, create lasting traditions, and build relationships that will last a lifetime. So whatever holidays you celebrate this year, be sure to spend quality time with your loved ones and make lasting memories together. Also, one way to commemorate a holiday for school-aged children is by making a delicious lunch and specially-themed lunch box for the occasion.
Valentine's Day
Valentine's Day as it is celebrated today likely originated from the ancient Roman festival of Lupercalia, which was held on February 15 in honor of the god Lupercus. During this festival, young men and women would draw names from a bowl to form couples for the duration of the festivities. It was believed that such temporary pairings could lead to more permanent ones. By the Middle Ages, Valentine's Day had evolved into a day where people expressed their love for one another through gifts and cards known as 'valentines'. The oldest surviving Valentine dates back to 1415 and was written by Charles Duke of Orleans to his wife while he was held captive in the Tower of London. 
With the spread of Christianity, the celebration of St. Valentine's Day began to take on associations with love. During the 18th century in England, handmade cards replaced written letters as a way to express romantic feelings. By the 1840s printing presses made it possible for mass production of cards and it wasn't long before candies and chocolates were added as tokens of affection. 
Today, Valentine's Day is celebrated around the world with gifts such as flowers, jewelry, and chocolate all given to express love. Restaurants often offer special menus and couples may use this day as an excuse to do something special together or take a trip away from home. However one chooses to celebrate the holiday, Valentine's Day remains a time-honored tradition of expressing love and romance.
6 Ways to Make a Special Valentine's Day Lunch for Your Child
Here are 6 ways for how to make your child's lunch special this Valentine's Day:
1. Show your love with a heart-shaped sandwich!
Use a cookie cutter to cut the bread into hearts, fill it with their favorite filling, and enjoy! If your child prefers not to eat sandwiches, you can also make heart-shaped grilled cheese sandwiches or pancakes. 
2. Include healthy snacks in each of the compartments.
Cut up apples, carrots, cucumbers, and peppers into fun shapes like hearts and stars using cookie cutters for added creativity. You can even add small amounts of hummus or dip as an extra treat!  Since candy can be bad for their teeth, this is a great way to incorporate healthier foods with Valentine's Day!
3. Add Some Valentine's Day Themed Coloring Pages or Cards
Make lunchtime fun by adding some Valentine's Day-themed activities such as coloring pages or printouts of Valentine's cards that they can color throughout the day while they eat their lunch. 
4. Add Special Valentine's Day Themed Treats
Include a special treat in the box like a heart-shaped cookie, cupcake, or even a small box of chocolates. This will make your child feel extra special and show them how much you love them! 
5. Write a Valentine's Day Message In the Lunchbox
Write a sweet Valentine's Day message on the inside of the lunchbox for your child to find when they open it up. A simple "I Love You" goes a long way and will brighten your child's day! 
6. Add Festive Valentine's Day Themed Decorations to the Lunchbox
Use festive decorations such as ribbons, bows, or stickers to add some sparkle to the lunchbox and make it more exciting for your little one. With all these ideas, you are sure to come up with something special for your child's Valentine's Day lunchbox!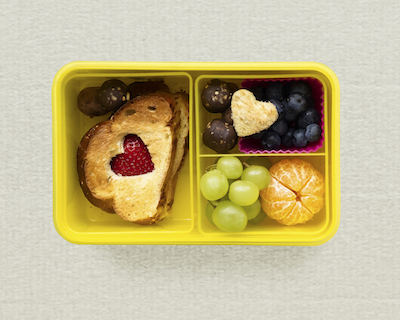 Valentine's Day Themed After School Snacks
Another fun way to commemorate the holiday for your child is to celebrate with Valentine's Day-themed after-school snacks. We've collected some unique ideas for festive snacks for you here. Kids will love these Valentine's Day-themed after-school snacks! Try getting creative and making heart-shaped versions of their favorite snacks. Here are some ideas to get you started: 
– Chocolate-covered strawberries.
Make it extra special by using white and dark chocolate for a classic combination. 
– Heart-shaped sandwiches.
Use cookie cutters to create sandwiches in the shape of hearts, or use half a sandwich for smaller appetites. 
– Cupcakes with Valentine's Day decorations.
Decorate with frosting and edible sprinkles in festive colors like pink, red, and white. 
– Trail mix with candy hearts.
A great way to combine some healthy elements like dried fruit and nuts with a sweet treat. 
– Chocolate-dipped pretzels.
Have fun with different colors and flavors, such as white chocolate drizzled with strawberry jam. 
– Mini pizzas with red peppers.
Cut mini pepperonis into heart shapes and top off a small pizza for your child's favorite after-school snack. 
Valentine's Day Themed After School Activities
If you're looking for some fun activities to do with your kids after school, consider putting together some of these fun Valentine's Day-themed crafts! Valentine's Day is the perfect time for kids to put their creative skills and imaginations to work by creating special crafts for their loved ones. With just a few basic materials, you can help your children make something unique and meaningful that will be treasured forever. Here are some easy Valentine's Day craft ideas that kids of all ages can enjoy: 
– Create homemade cards with construction paper, crayons or markers, stickers, and ribbon. Let the kids get creative by writing poems or drawing pictures on their cards. 
– Decorate doilies with glitter and paint to create beautiful heart-shaped decorations for windows or walls. 
– String together colorful beads in the shape of a heart to make a unique necklace or keychain. 
– Make homemade bookmarks out of paper, ribbon, and colorful glitter glue. 
– Cut out hearts from construction paper and decorate them with sequins, buttons, or glitter to make fun picture frames for your child's artwork. 
– Let the kids use their imaginations and create sculptures using pipe cleaners and model clay in any Valentine's Day shape they like! 
– Have the children create a big heart on poster board or cardboard by cutting it out. Then have the kids decorate it however they'd like using paints, markers, crayons, pom-poms, etc. It can be used as decoration or hung up in their bedrooms. 
These are just a few easy, fun ideas for Valentine's Day crafts that you can do with your kids. With just a bit of creativity and imagination, they can create something unique and special to show their love this holiday season!  Happy crafting!
Conclusion
We hope some of these ideas help you on ways for how to make your child's lunch special on Valentine's Day will help you celebrate with your children in a meaningful way. Holiday celebrations offer a chance for families and friends to come together, bond and create happy memories. They can be an opportunity to celebrate shared values and traditions, giving us the chance to learn from one another. Each year, coming together on special days gives us the chance to strengthen our relationships with loved ones and enjoy good food, fun activities, and meaningful conversations. 
Celebrating holidays also helps build community cohesion by bringing people from diverse backgrounds together in a spirit of celebration. Lastly, holidays provide an opportunity for self-reflection as we take time out of our busy lives to appreciate life's blessings and pause to thank those who have made contributions throughout the year. All these reasons make holiday celebrations well worth the effort!