Encouraging Your Kids To Eat Lunch At School
As a parent of two, I know firsthand how frustrating it can be when your child refuses to eat. Not only is it essential for their healthy growth and development, but it also feels like a personal insult! With the ever-increasing cost of food, an uneaten lunch is also a waste of your time and resources. Even more frustrating than your child not eating lunch at home is refusing to eat lunch at school. This can lead to irritability, behavior issues, and tiredness due to a lack of nutrients. So, how can you get your kids to eat lunch at school?
Here are some steps for how to get your kids to eat lunch at school:
Figure Out Why They Aren't Eating
Pack Nutritious and Appealing Foods
Switch It Up
Encourage Them to Pack Their Own Lunch
Make Lunchtime Fun
Offer an Incentive
Practice Eating Lunch At Home
Use Leftovers & Let Them Know You Won't Waste the Food
Consider Lunchtime Alternatives
Eating is an important part of our daily lives. Especially for growing children in school, it is important to get the nutrients and energy that a proper lunch provides. In this blog post, we will take a look at a few helpful strategies for getting your kids to eat their lunch at school (and at home).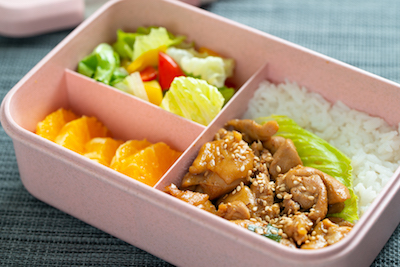 Why Is Lunch Important for Kids?
We all know the importance of maintaining a healthy diet. For school-aged children, a nutritious lunch provides energy to get through the second half of the school day and any after-school activities.
Experts note that a healthy lunch not only provides students with energy but can also improve concentration and lead to great problem-solving and creativity – traits that are incredibly beneficial in the schoolroom!
For children who are not yet attending school, establishing healthy eating habits surrounding mealtime is just as important. By providing your child with a healthy meal, you are setting the stage for a lifetime of good nutrition.
What Makes a Healthy Lunch?
A healthy lunch typically contains a source of lean protein, whole grains, fruits and vegetables, and dairy. It is to include all four food groups in order to provide your child with the nutrients they need to grow and thrive.
There are many benefits to eating a healthy diet. For example, eating healthy promotes healthy gums. Additionally, a diet rich in fruits and vegetables can help protect your child from developing health conditions such as Type 2 Diabetes later in life.
Getting Your Kids to Eat Lunch at School
Before becoming a parent, you likely thought that getting your kids to eat lunch would be a no-brainer. But, as any parent knows, this is often not the case! Let's take a look at some ways to encourage your child to eat lunch whether they are at school or at home.
As we know each child is different. So, another important thing that you can do to get your kids to eat lunch at school is to get to the bottom of the issue. Why aren't they eating their lunch each day? Once you have answered this question you can try techniques such as packing their lunch in a different format, adding interesting foods, working out a rewards system for a finished lunch, or other techniques.
1. Figure Out Why They Aren't Eating
There are a few reasons why your child might not be eating their lunch at school. Many children are not given enough time to eat their lunch during the lunch hour.
Whether this is because of a truly short lunch or they are busy talking and playing with friends, not having enough time to eat can result in an unfinished meal.
To determine if this is the issue, ask your child's teacher or lunchroom monitor how long the lunch period is. If it is shorter than 20 minutes, consider talking to the school about increasing the time or sending your child with a snack to eat later in the day.
2. Pack Nutritious & Appealing Food
Another way to get your kids to eat their food at lunch is to choose foods that are both nutritious and appealing. Offer your children a variety of healthy options, including items like sandwiches on whole wheat bread, fresh fruits and vegetables, and low-fat dairy products. Sometimes let them choose their own lunch items so they can customize their meal to their tastes.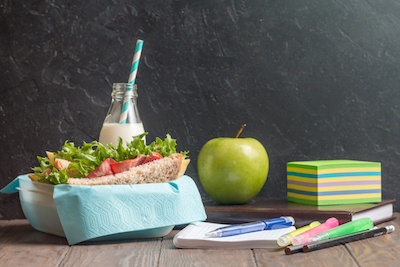 3. Switch It Up
While a peanut butter and jelly sandwich are both budget-friendly and easy to make, it is not the most enticing lunch item. I have personally found that my son gets burnt out from eating the same lunch day after day. When he's sick of eating something, he will simply choose to not eat.
To avoid this, I have begun rotating his lunches and offering a variety of meals throughout the week to keep lunchtime exciting. If you are having trouble finding lunchtime inspiration in the early morning hours, consider packing your child's lunch the night before!
4. Encourage Them to Pack Their Own Lunch
When kids are allowed to pack their lunch, they are typically more likely to eat it! This is especially true for older children who can make decisions about what goes into their lunchbox.
If your child is old enough, allow them to help you plan and pack their lunch for the week. This will give them a sense of ownership over their meal and encourage them to eat it. Of course, it is important to ensure that they are still getting a nutritious and complete meal, not a lunch full of snack food.
Consider taking your child along to the store and allowing them to pick one thing to pack in their lunch each day. If they finish their lunch each day, this special privilege will carry on to the next week. If they choose to only eat their "special treat" consider trying another method to get them to eat their lunch.
5. Make Lunchtime Fun
You can also make eating lunch more fun by getting creative with the food you pack. If your child is bored with their usual sandwich, try packing it in a different format. For example, cut their sandwich into fun shapes with cookie cutters or send them with a mini-pizza.
You can also let your child help you make lunch the night before. This will give them something to look forward to and make lunchtime more exciting!
6. Practice Makes Perfect – Practice Eating Lunch At Home
If your child is not eating their lunch because they do not have enough time, many parents have found success practicing eating lunch at home in a set amount of time!
While you do not want to pressure your child to eat unnecessarily fast, it may help them to understand that they do have enough time to eat if they eat at a reasonable pace.
7. Offer An Incentive
Many school-aged children respond well to incentives. For example, you could tell your child that if they eat their lunches for an entire week, they can choose a special meal over the weekend to enjoy as a family!
8. Use Leftovers – Don't Waste Lunch Food
One of the major downsides of your child not eating lunch is the wasted food. To combat this, offer any leftover lunch items as your child's after-school snack or dinner! (If you chose this method, it is important to ensure that the foods have stayed cool and at a safe temperature to avoid food poisoning.)
This will both minimize food waste and reinforce the fact that they do have to eat the food you have provided – whether that is at lunchtime or later in the day.
9. Consider Lunchtime Alternatives
When children reach middle school and beyond, they begin to become more influenced by their peers. If everyone in their friend group is getting a hot lunch at the school cafeteria, they may be embarrassed that they have a packed lunch.
Consider allowing your child to eat at the school cafeteria a few days a week as a compromise, contingent on them finishing their packed lunch the previous day.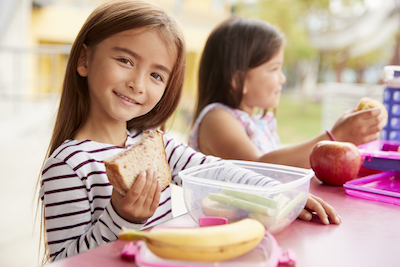 Be Understanding & Flexible
We all have days when we are more hungry than others. While it is important to make sure your child is getting the food and nutrients that they need to excel in their daily lives, it is just as important not to force food when they are truly not hungry.
Be flexible and understand that there will be days when your child is simply not hungry enough to finish all of their lunch. Packing their lunch in a lunchbox with a high-quality freezer pack will ensure that the rest of the food stays at a safe temperature to be finished later in the day.
Additionally, be sensitive to foods that your child simply does not like! It is important to offer a wide variety of foods and not to cater to picky eating. However, if your child has a strong disdain for a certain meal or vegetable, consider offering a comparable alternative.
In most cases, it is more important to ensure that your child is eating than to force them to eat something that they do not like – especially when their performance at school is on the line.
Final Thoughts
As a parent, you know as well as I do that every child goes through seasons. They may have a season where they are not interested in eating lunch at school and then a few weeks later will turn the page and finish their lunch every day.
Although it can be hard at times, try to not take an unfinished lunch personally. Take this opportunity to learn more about your child – their likes, dislikes, and preferences. Ask them why they are not eating their lunch to ensure that it isn't a situation that requires action.
Finally, if you are truly concerned about your child not eating their lunch at school, speak with a teacher, advisor, or medical professional. Unfortunately, bullying, eating disorders, and other social pressures can contribute to this common childhood problem.