The 5 Best Eco-Friendly Lunch Boxes
With more people becoming conscious of the global climate crisis, these eco-friendly lunch boxes provide an excellent way to reduce waste and support sustainable practices. Eco-friendly lunch boxes are designed with sustainability in mind, as they are made with non-toxic, natural components that help minimize their environmental impact while still providing a safe place to store food on the go. When it comes to lunch boxes, eco-friendly materials can make a huge difference in the environment. Eco-friendly materials are those that are derived from renewable sources, such as plant fibers and recycled materials. These materials not only reduce the environmental impact of items made from them, but they also have other benefits like being lightweight and durable. However, with so many eco-friendly lunch box options available nowadays, it can make finding the best one a challenge. So, what are the best eco-friendly lunch boxes?
Here is our list of the five best eco-friendly lunch boxes:
So, now that you have an idea of what the best eco-friendly lunch boxes are, let's take a closer look at all of these lunch boxes. As well as what to consider when picking out the right eco-friendly lunch boxes for you and your family, so keep reading!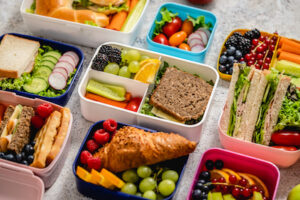 What to Consider When Picking Out an Eco-Friendly Lunch Box
Eco-friendly lunch boxes are an easy way to make a difference in our world and show your commitment to sustainability. By making simple swaps towards sustainable options like natural cotton, bamboo, or recycled materials, you'll be helping reduce plastic waste and supporting renewable resources. With the rising popularity of eco-friendly items and more people becoming aware of their environmental impact, there has never been a better time to join the movement and make sustainable choices such as recycling and buying more eco-friendly purchases.
When buying an eco-friendly lunch box, there are several factors to consider to ensure that you are making an informed and environmentally responsible choice. Here are some things to keep in mind:
Material
Look for lunch boxes made from sustainable and eco-friendly materials such as stainless steel, bamboo, glass, or silicone. Avoid plastic lunch boxes as they are not biodegradable and contribute to plastic waste.
Durability
Choose a lunch box that is sturdy and durable to ensure that it lasts a long time and can withstand daily wear and tear.
Size and Capacity
Consider the size and capacity of the lunch box to ensure that it can accommodate your meals and snacks. A lunch box with multiple compartments or a bento box-style design can be helpful in keeping your food organized and fresh.
Seal and Leakage
Make sure that the lunch box has an airtight seal to prevent leaks and spills. Look for lunch boxes with silicone seals or tight-fitting lids to keep your food fresh and secure.
Cleaning and Maintenance
Choose a lunch box that is easy to clean and maintain. Look for dishwasher-safe or hand-washable options that do not require special cleaning products.
Cost
Consider the cost of the lunch box and look for options that fit your budget while still meeting your eco-friendly criteria.
Brand and Certification
Look for brands that are transparent about their manufacturing processes and environmental practices. Check for certifications such as BPA-free, non-toxic, or made from recycled materials to ensure that you are making a sustainable and safe choice.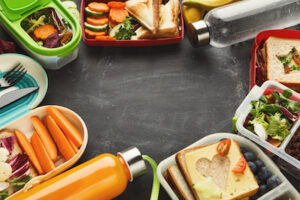 The Top 5 Best Eco-Friendly LunchBoxes
Here are our picks for the five best eco-friendly lunchboxes:
Discover the joy of securely storing and warming your meals with our stylish and eco-friendly three-section bento lunch box containers! These charming bamboo food prep containers perfectly harmonize with your pantry, cabinets, and fridge, while keeping your health and environment in mind. Boasting durable construction and a unique stackable design, our bamboo-lidded containers are plastic-free, reusable, and recyclable, making your lunchtime experience a delight. In addition, our versatile set of three 1040ml glass bento boxes features handy dividers and maintains a shatterproof structure, ensuring resistance to extreme temperatures – from freezing to oven baking up to 750°F!
Verified Purchase Review
5.0 out of 5 stars – Great lunch dishes
These section dishes are perfect for transporting lunch to work/school. No leaks, the look beautiful, food stays fresh. Perfect!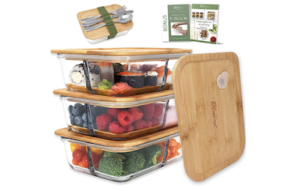 Introducing the ultimate lunchtime game-changer: our revamped stainless steel GreenLunch Bento box! Designed to hold all your favorite meals without any pesky splitting, this sleek bento box is an unbreakable, waste-free lunchtime solution. Boasting a whopping 6 cups of food capacity (50% more than most options!), even the hungriest appetites won't stand a chance.
Wave goodbye to harmful chemicals – this 100% food-grade steel lunch box is BPA, PVC, PHTHALATE, and LEAD-free, ensuring a healthy and safe meal for everyone, especially your little ones. Welcome the joy of holding a perfectly packed, worry-free lunch with our state-of-the-art stainless steel bento box!
Verified Purchase Review
5.0 out of 5 stars – Healthy Foods in my Bento Box
I love my Bento Lunch Box! It's easy to pack my lunch with the Bento Box. I travel by train so I wanted to carry my lunch by a way that is compact and leakproof. Salad, fruit, protein, or sandwich fits nicely in the Bento Box. I think this is a great product and I will order more for my kids' school lunches.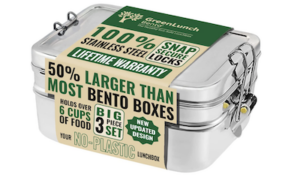 The Blockhuette Stainless Steel Lunch Box is a high-quality and eco-friendly and sustainable option for carrying your meals on the go. Its durable and airtight design, multiple compartments, and safe and healthy materials make it a practical and convenient choice for anyone who wants to enjoy their meals while minimizing their environmental impact. It is made from food-grade stainless steel and is free from harmful chemicals such as BPA and phthalates that are commonly found in plastic containers. Also, the stainless steel material is a durable and long-lasting material that can withstand daily wear and tear and is easy to clean and maintain. Unlike plastic, stainless steel is a sustainable material that can be recycled and reused for years to come. This reduces waste and helps to protect the environment.
Verified Purchase Review
5.0 out of 5 stars – Great lunch box
I love this lunch box. No leakage, no accidental opening possible, and much lighter than my glass lunch boxes. My salads taste fresh and crunchy. This lunch box is highly recommended.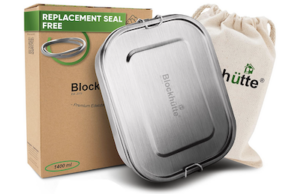 Introducing the Edo Box, the ultimate lunchtime hero for the entire family! Imagine a bento box so spacious that dad's hearty appetite is satisfied and so sturdy that the kids can't break it. With an eco-friendly wheat fiber and BPA-free design, you're making a wise choice for both your family's health and the environment.
Say goodbye to messy backpacks and lunch bags – our ingenious inner lid-locking system ensures an airtight seal that locks in freshness and most importantly, prevents spills. Wave farewell to soggy sandwiches and fear of food mingling – the Edo Box's leak-proof design allows you to confidently carry lunches, ensuring they remain as delectable as when they were made. Diversify your family's mealtime menu and make lunch appealing for everyone with this fantastic food storage solution!
Verified Purchase Review
5.0 out of 5 stars – Great Buy
A great little lunch box holds everything you would need. Easy to clean and spill-proof what else do you need!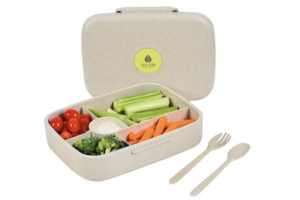 Experience serene lunchtime bliss with our elegantly designed bento box, inspired by minimalist Japanese traditions. Effortlessly manage your portions and maintain your unique diet in a sleek and straightforward manner. Crafted from BPA-free, food-grade PP plastic and wheat fiber, our bento box ensures optimal safety and durability for you and your loved ones. Spacious enough to hold a week's worth of lunches, our bento box features three divided containers for easy meal planning and control. The removable compartment tray allows for safe microwave reheating and hassle-free dishwasher cleaning. Embark on a mindful journey towards healthier eating with our sophisticated and versatile bento box.
Verified Purchase Review:
5.0 out of 5 stars – Best Bento Box I've Seen!
Leakproof, perfect-sized portions for a decent-sized lunch, and microwavable. Easy to clean the seals and compact enough to fit in a purse. We use these every day!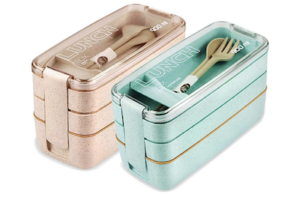 In Closing
Hopefully, this list of the 5 best eco-friendly lunch boxes made it a bit easier for you to get the eco-friendly lunch box you've been wanting! Remember that when buying an eco-friendly lunch box, consider the material, durability, size and capacity, seal and leakage, cleaning and maintenance, cost, and brand and certification. By keeping these factors in mind, you can make an informed and environmentally responsible choice that will help you reduce waste and protect the planet. Thanks for reading and Happy snacking!