The Top 9 Best Thermoses to Keep Your Lunch Warm
Are you struggling to find the perfect thermos container for your child's school lunches? A good thermos can be a game-changer, providing easy access and keeping meals freshly sealed and warm. This feature is extremely important for those up-and-coming cold winter days. However, there are so many thermoses in the market, so what are the best thermoses to keep your lunch warm? Here are the nine best thermoses to keep lunch warm:
Now that you understand the different options available to you, let's explore each one further.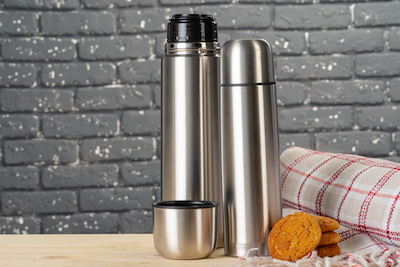 What Are The Best Thermoses To Keep Your Lunch Warm?
With so many thermos containers on the market, it can be tricky to choose one. Here at our company, we highly recommend double-walled stainless steel thermoses as they are superior in preserving food temperature compared to plastic alternatives. Plus, you get more bang for your buck! To help guide you when using a thermos for the first time, check out this instructional video I created about preheating and packing hot lunches with a thermos container. It is important to try investing in stainless steel is worth every penny
Here are our picks for the 9 best Thermoses to keep your lunch warm:
This heavy-duty 10-ounce stainless steel lunch box is the perfect solution for busy parents or school regulations that prohibit characters. Its double-wall insulation keeps food hot for up to 5 hours and cold for up to 7! Additionally, its rubberized grip on top and bottom makes it easier to open – so no more worries about the lid slipping off surfaces! In addition, this container has a shallow depth for simple filling/eating. As a bonus, it's dishwasher-safe as well! If you're searching for something more maturer than your average child's thermos. This is it.
This stainless steel container is perfect for young children! It holds up to 10 ounces of food – roughly 1.5 cups – and its double-wall insulation will keep meals hot for 5 hours or cold for 7 hours. Plus, when mealtime is done you won't have to worry about any messes as the product is quickly filled, eaten from, and cleaned – plus it's dishwasher safe too!
Keep your food hot or cold for up to 5 hours with this double-wall insulated container! It holds 16 ounces (2 cups) of food – perfect for those with big appetites. Its wide opening makes it easy to fill and access, while its stainless steel construction ensures long-lasting durability when handled properly. Plus, you can choose from 4 colors that will fit in any kitchen space! With all these features combined, little ones have no problem accessing their lunch. Remember to be sure they handwash the container afterward.
This 14-ounce (1 ¾ cup) container satisfies even the heartiest of appetites, with double-wall insulation that keeps food hot for up to 15 hours and cold for up to 15 hours. It is leakproof, packable, and durable—plus it comes backed by a lifetime warranty. The only two drawbacks might be its limited color selection and handwashing requirement. But don't let those turn you away from what we feel is the best-performing container out there!
Our stainless steel insulated container is the perfect companion for your on-the-go meals. It's leakproof, durable, and double-walled to keep food hot or cold – all while maintaining its lightweight packability. With 12oz (1.5 cups), 18oz (2+ cups), and 24oz (3+ cups) sizes available in three colors, you'll find something ideal for all age groups. To ensure optimal performance, please handwash only.
Our multi-purpose KID-FRIENDLY Thermos Containers are safe, easy to open, and leakproof. They come in a variety of colors, 15oz (1 cup), perfect for kids of all ages! Keep your items hot for up to 5 hours or cold for up to 10 hours without worrying about BPA. And the best part? It's very affordable. You can even get them engraved to make it an extra special gift! $20-25
The all-in-one lunchbox with a built-in thermos is your answer for the ultimate flexibility of packing both hot and cold meals. Even if you don't use the thermos insert, it's still perfect for younger kids due to its durability, quality construction, and simple cleanup.
Keep your food fresh and warm with the Insulated Stainless Steel Lunch Thermos! This thermos holds up to 13.5 ounces and is perfect for storing hot meals or cold drinks. Designed for leak-proof portability, you can take it anywhere without worrying about spills. Enjoy a delicious meal wherever life takes you with this convenient lunch thermos!
Enjoy unbeatable temperature control and the assurance that your meal will stay secure with this triple-layered stainless steel thermal vacuum container. Its double walls, copper coating, and airtight lid make it entirely leakproof while its food-safe BPA-free materials ensure your safety. From hot soups to cold yogurts – now you can enjoy your meals wherever life takes you.
What to look for in a good thermos?
For all the coffee fanatics out there and for those who need to keep their lunch warm, a stainless steel thermos is one of the best choices. With it, you can bring your homemade brew home to work or on an extended journey without settling for cheap office instant coffee options. Plus, with its impressive insulation properties, you'll stay alert and energized throughout whatever adventure awaits.
The length of time a thermos can keep drinks steaming hot or warm is paramount. Certain thermoses provide up to 24 hours of warmth while others may struggle to offer 6 hours. Going on a long mission and need piping hot coffee all day? You'll want the flask that keeps it heated for as extended as possible – but if you only have a few hours, maybe this will be more critical after all! Keep in mind: read customer reviews, since the product might promise more insulation than they deliver.
– The Lid
Picking a lid for your thermal flask is essential to ensure its efficacy. It needs to be secure and not come off as well as prevent any leaking, while at the same time being easy to clean. An ideal lid should fit perfectly on the container, with an effortless opening and closing experience – preferably through screwed caps rather than cork closures which are more prone to spilling incidents. However, when making purchases online it is prudent that you read reviews first to establish if there's sufficient compatibility between cap and flask!
With many of these lids, you don't need to pack an extra cup when exploring outdoors — they double as a cup! Make sure the thermal mugs are crafted from similar materials as their flasks, so that heat is held consistently. That way, your beverage will stay at its desired temperature without cooling off rapidly.
– Material
The material a thermal flask is made out of plays a key role in determining how long it lasts and how efficiently it works. Stainless steel is an ideal choice for its resistance to dirt and its ability to retain heat well. Plastic or glass flasks should be avoided, as they are more likely to break and do not retain heat as well.
When selecting a thermal flask, you should determine the insulation level. A double-layered flask is ideal for preventing heat from escaping, but if you want superior retention, then a vacuum-sealed thermos is what you need. Sometimes it's better to get an insulated flask made out of subpar material than a stainless steel option that isn't well insulated – this way your drink can remain warm for extended periods
– Other Features
When shopping for a thermal flask, be sure to check whether or not it has to carry straps that will make it easier and safer to transport. Furthermore, many flasks come with complimentary bags that can keep any spills from damaging your belongings. For maximum satisfaction with your purchase, choose models that offer money-back guarantees and warranties so you are protected in case of defects or other issues.
When purchasing a flask online, it can be difficult to tell how durable it will be, even if you read all customer reviews. Luckily, warranties are in place so that customers can get their money back or exchange their faulty product for something better; this way, anyone who cannot try out the flask beforehand has peace of mind knowing they are covered in case anything goes wrong.
Remember that with most of these, you can even get them engraved, so you can personalize your gift and make it extra special.  So, when selecting the best thermoses to keep your lunch warm, consider insulation, material, and carrying straps for the ultimate experience. You may just find yourself with a high-quality thermos that will last for many years.
Conclusion
So these were our picks for the nine best thermoses to keep lunch warm! In this article we showed you the must-have thermoses that will help make your lunch packing process quick and effortless – so say goodbye to leftovers. Thanks for reading!